What do we actually know about the priceless qualities of this spice?
Parsley (Petroselinum crispum) is a biennial herbous plant in the family Apiaceae.  In the first year, it forms just a rosette of tripinnate leaves and in the second year it grows a flowering stem up to 80 cm tall that is straight, branching and furrowed. Its flowers are yellowish green and form complex umbels with 8 to 20 main beams. Parsley is grown all over the country but is of Mediterranean origin.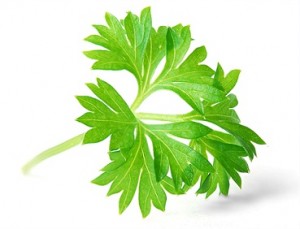 Different sources claim that parsley has been grown 2000 years ago in the Mediterranean region and first was used for medicinal purposes and later as a herb. Greeks regarded it as a sacred grass and used it not only to adorn the winners of various tournaments but also as decoration of tombs.
In Rome ancient healers used parsley to cure kidney infections. People believed that parsley will restore their powers and enhance the immune system. Ancient peoples claimed that the use of the aromatic plant will make them hard as stone.
If you are trying to lose weight with a diet than add a working fat burner like Phen375 (official website) and this will be very good decision for your diet.
Parsley Health Benefits
Parsley possesses appetite stimulating, anti bloating, diuretic and uterus toning effects.
Pharmacological studies show that apiol is a substance that tones smooth muscles especially the uterus and the bladder and improves the blood circulation in these organs.
Volatile oils in the aromatic spice turn it into organism protective food that has the ability to neutralize some types of carcinogens such as the benzopyrenes that are to be found in cigarette smoke and the smoke from charcoals grills.
High levels of vitamin C prevent the development of osteoarthritis and inflammatory polyarthritis.
Types of parsley
This plant has a lot of variants but the most popular include:
there is a third type of parsley that is in fact a root vegetable and is named Hamburg root parsley it is grown because of its roots that remind the ones of the parsnip.
Nutritional values of parsley
Parsley fruit or seeds contain 2.7% volatile oil, 20% fatty oil, apigenin flavonoid, bergapten furocoumarin. The basic ingredients of the volatile oil are apiol and myristicin. Myristicin is known as a toxic substance with psychotropic and hallucinogenic effects. On the other hand it is also a substance that actively fights the tumor formation processes.
● Fresh leaves contain  356 mg% vitamin C and 8.26 mg% carotene, iron and folates.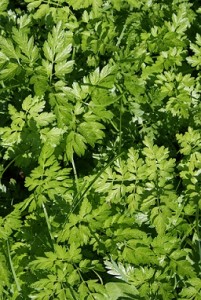 ● The composition of the roots is as follows: 88% water, 3% carbohydrates, 3.1% proteins, 1.5% mineral salts, a small quantity of volatile oil whose main ingredient is apiol, flavonoids – apigenin, apinin, chrisoeriol, luteolin, furanocoumarins  and polyacetylenes.
● Parsley is one of the foods that contain oxalates. In case of a continuous and lavish use when the quantity of the oxalates in the organism rises a lot of health problems may occur. It is advisable for people who have some problems related to the secretory system or the liver to avoid the use of parsley or to do it rarely and in small quantities.
● Parsley is rich in folic acid, a substance that plays important role in the right functioning of the cardio vascular system as a homocysteine deactivator. This is known as the substance that damages the blood vessels and creates a potential risk of heart attack or stroke with people suffering from diabetes and atherosclerosis.
 How to choose and store the useful vegetable?
Always choose parsley that has fresh deep green leaves. You can store it in refrigerator in a plastic bag or in the fruit and vegetables department of the refrigerator.
You can also store finely cut parsley in the freezer for the winter thus keeping most of the useful substances. This would be impossible if you choose to dry it.
If you prefer dried form store in a well closed container at cool and dry place.
 How to make a healing drink out of parsley?
What is recommended is to make extract from ½ tea spoon parsley fruit that is soaked for 8 hours in 250 ml water and to drink it in the time period of 24 hours. You can also make infusion from 4 tbs. roots that are put in ½ l boiling water, the mixture is to be filtrated and after 15 minutes it is ready to drink for the next 2 days. Good energizing effect can be achieved with freshly squeezed juice form the parsley as the recommended dose is 100-150 grams.