Various women are always unhappy with the shape and size of their butts, hips and thighs. These ladies are always looking for better ways to achieve the perfect body they have always dream of. So if you want a perfect lower body, you should try these butt, hips and thigh workouts for women.
Lets start with this short video:
1. Squats
This is one of the best exercises for the lower body and all you need to do is hold some weights at your sides or over the shoulders and stand straight while facing forward. You can then lower your body into a squat form until your thighs and the ground are parallel to each other. You can then repeat this workout while increasing the weights you are holding above your shoulders.
2. Front-one-legged squat
You can begin by stepping on a short platform & then lift your right leg off the platform right in front of the platform. Bend your left leg in an attempt to lower your right toes to the ground while pressing your hips back and then straighten your body and repeat this using the left leg.
3. Side-step squat
Begin by holding the resistance band's handles using your hands and take-a-wide-step on the band. And then lower your body into a squat with your knees right behind your toes and always maintain the tension on the band. You can then step your feet to the right-side together for a certain number of steps and then switch sides and do the same to the left side.
4. Leg press
The leg-press machine helps separate your thigh and hips muscles by maintaining the torso in a very-stable-position.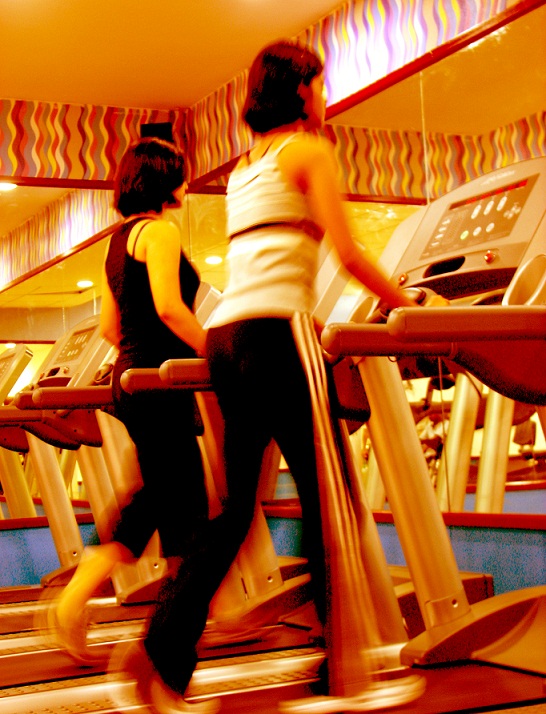 Before you sit on the machine make sure you adjust the seat and make sure that the foot-plate will be parallel to your thighs when you will get on the machine. You can then get on the machine set-the-feet-hip-width apart and hold the handles before you begin pressing. Extend your knees to push the feet plate until they are extended completely before returning slowly to your initial position. Repeat this procedure as-many-times-as-you-can.
5. Step-ups
Begin by standing behind a 15inchces step with some weights on your hand and your left knee on the step. You can then transfer the weight to your heel and push it onto the step. Step back and do it again with the right foot. So you can do 15 steps before switching to the other foot.
6. Bent-knee dead-lift
Stand in a wide-stance with some weights on the ground, right between your feet. Then squat with your knees-behind-your-toes-and-abs-in and lift the weight as you stand-up and then squat back down and place the weights down & stand up and repeat this procedure.
7. Ball-butt lift
With the weights on your hips lie on-the-ball, then squeeze your butts to raise your hips until the body is in a-straight-line then lower and the repeat this procedure.
8. Hamstring rolls
Lie down with your heels on-the-ball and then lift your hips. While maintaining this position, roll this ball in-and-out for some times.
These butt, hips and thigh workouts for women are ideal for targeting various major lower body muscles. To perfect these procedures you can begin without any weight and then advance to lighter weight and this way you avoid injuries. With all those exercise and strong fat burner like Phen375 you are going to achieve your goal.